Long long time ago I bought a small 6" baking tin telling myself that I will bake my 1st cake next week. Well, next week did not really come till today, like about at least 2 months later. Since I am hosting the Festive Fare blogtrain, I have wanted to bake a Christmas cake, after searching the web for some recipe I decided to give it up as most of them requires either stout, rum, beer or some kind of liquor in the recipe. Ok, I'm still a noob, maybe they can be replaced with something or be omitted but I did not look or research further. Better go for a simpler cake. I chance upon a mini cake book and was really happy, I can try to make a mini cake instead a gigantic one.
Sound easy? Not true! The cake book asked for sponge mix; what in the world is that! A check with a few baking friend and they have no idea, but they are staying in Australia so perhaps they do not have this over there? Dear ol' Ange is ever so helpful, she gave me a link for sponge cake! A trip to Phoon Huat for the necessary ingredients, I managed to get a packet of sponge mix (Hurray!) It should be a breeze from this point on but its not! Either there is something that I did not read correctly from the cake book or there is something the author is not writing clearly. 60g of sponge mix with 15ml of water DO NOT make a BIG cake! I almost give up but I am determine to have a cake today!
I took a break, study the link that my friend Ange gave me on sponge cake, search the web some more and decided on a very simple sponge cake recipe by
Kitchenscookshop
. By this time I was tired to the bones with all those whipping & beating of the batter, I swear my arms are bigger with muscles.
Basic Sponge Cake Recipe for 6" round or 5" square tin
• 110g / 4oz Butter or soft margarine
• 110g / 4oz Caster sugar
• 2 Eggs, lightly beaten
• 110g / 4oz Self raising flour, sifted
Cream fat and sugar until light and fluffy. Add eggs a little at a time, beat well after each addition. Carefully fold in the flour. Add a little milk if necessary to create a dropping consistency (the mixture falls off the spoon when lifted above the bowl). Spoon in to the prepared tin and spread evenly. Bake for 20 - 35min at 180Deg in the oven.
So 3 tries later, 3 cakes that did not rise up to half of my 3" tin, my cake is finally done at the 4th try! My very first cake! Hip-hip Hurray!!!! My wish to bake a cake for DinoPapa and DinoBoy for Christmas came true!
Its a kiwi cake with a twist, so to say, I "cheated" a bit by putting a little Santa Claus and Frosty on top of the cake with those rainbow sprinkles. No white cream for me, its too plain, and green is the color of kiwi. Love this cake, its so cheerful to the max! I was suppose to place the cake on the cardboard thing (not sure what its called, lazy to google) but couldn't find the size I want in Phoon Huat. Now its sitting on my very nice Ikea plate inside the fridge at this moment, I refuse to think how we are going to cut the cake later.

In the meantime, the sponge mix is going to be banished into the dark dark corner of the cabinet.
Ho~ Ho~ Ho~ Merry Christmas Everyone!
*** *** ***
We finally cut the cake later that day, DinoPapa and DinoBoy put up their thumbs after tasting it. DinoPapa, who is not a cake lover, says that the cake is very delicious, not too sweet though the cake is a bit hard coz it was in the fridge for so long. There wasn't much cream in the middle as I do not like too much of it in the cake, I think I should put more kiwis in the cake. Anyway, 1st try and I receive thumbs up from my family which makes me float to 7th heaven. 2nd cake coming up soon~
~ ~ ~
Linking up with my blogtrain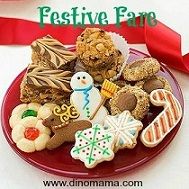 ~ ~ ~
This activity is part of an Advent Activities series where we aim to share on a daily basis the various activities we are doing as we lead into Christmas!