We had a wonderful fun filled Christmas party that our friend Steve & Chris hosted on Christmas day!
There were a lot of home cooked food, some were not in the photo coz I was hungry when we reached their place and was famished when its time to start that I decided to ditched my camera for some plates & utensils and attack the food. I was busy feeding DinoBoy who were distracted by all the activities going around the house and would not stay seated to finish his plate of bee hoon, thus no photos of any one munching on their food.
After we had our fill and was taking rest, suddenly we heard "Ho-Ho-Ho~" and Santa came visiting! The kids were thrilled to the max! And as you can see, the kids are not the only one who adores our Santa.
Then its the time the kids has been waiting for since the minute they step foot into the house! Nerf War!!!! Its shooting at every one that holds a Nerf gun and even the littlest one have a simple single shoot gun and is "gunning" the "enemies" down! Of course the "civilians" were "killed" many times too by straying "bullets". It was fun even when we were just dodging bullets sitting on the sofa trying to watch TV.
Slightly more then 30mins later (sure felt like it was longer!), we stopped the game for cake cutting~ Benny & Steve's birthday are a few days away so we are celebrating it early. Look at the 2 happy birthday boys men!
And with this post I am also closing my Festive Fare blogtrain. A big
THANKS
to every one who participated and linked up. You can find all the Festive Fare post
here
.
~ ~ ~
Linking up with my blogtrain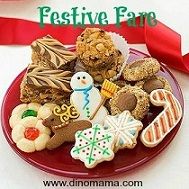 ~ ~ ~
I am hosting a weekly Foodie Fridays linky, join me if you can, I'll be very happy to welcome you on board.
This linky is for anything that is FOOD related. It could be a restaurant you visited recently, meals you cook with your family or for your family or recipes you wish to share with every one.